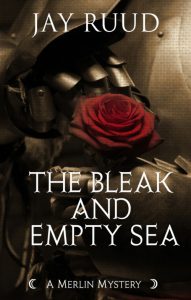 • Paperback: 217 pages
• Publisher: Encircle Publications (August 10, 2017)
"Fans of medieval mysteries and Arthurian legends will enjoy this imaginative tale of gallant knights" —Library Journal
A page-turning medieval whodunit written by an acclaimed medievalist, The Bleak and Empty Sea by Jay Ruud will appeal to fans of mysteries and Arthurian legend. This book, the third of the Merlin Mystery series, may take place in an era shrouded enchantment , but its human concerns are as modern as today. Filled with authentic detail and relatable characters, the book's exploration of chivalry sheds a burning light on our most unchivalrous era.
When word comes to Camelot that Sir Tristram has died in Brittany of wounds suffered in a skirmish, and that his longtime mistress, La Belle Isolde, Queen of Cornwall, has subsequently died herself of a broken heart, Queen Guinevere and her trusted lady Rosemounde immediately suspect that there is more to the story of the lovers' deaths than they are being told.
It is up to Merlin and his faithful assistant, Gildas of Cornwall, to find the truth behind the myths and half-truths surrounding these untimely deaths. They take ship to Brittany to investigate, and find themselves stymied by the uncooperative attitudes of Tristram's close friend Kaherdin, lord of the city; his sister and Tristram's wife Isolde of the White Hands; and Brangwen, La Belle Isolde's faithful lady-in-waiting. 
The case is complicated by the facts that King Mark of Cornwall is Gildas's own liege lord, and that Duke Hoel, Lord of Brittany, is King Arthur's close ally and father of the lady Rosemounde, who urges Gildas to clear the name of her half-sister, Isolde of the White hands, whom gossip has implicated in Tristram's untimely death. By the time they are finally able to uncover the truth, Gildas and Merlin have lost one companion and are in danger of losing their own lives
The Bleak and Empty Sea was provided by TLC Book Tours for an honest review

Mystery | Fantasy | Historical Fiction
I was super excited to get my hands on this novel, I absolutely loved the idea of a murder mystery within the King Arthur fiction. I love historical fiction and this was definitely an intriguing synopsis. 
The story at the start jumps off with the mysterious death of Tristram and Isolde, leaving Merlin and a squire named Gildas to discover the truth. Both characters are a decent balance in all the right places, one slightly more flawed with a hint of annoyance but still fun to read. At first, Gildas is nothing short of naive, hint of innocent in his mindset, yet during his journey with Merlin he grows as an individual. He turns into a really intelligent, eager to learn type of character while shadowing Merlin. This makes him extremely likable and less annoying, which is where he started with me. Merlin on the other hand was definitely fun yet serious during the journey. He is the perfect role model for Gildas. I really enjoyed them together, they are really entertaining, I found myself thinking they were the Camelot Round Table version of Sherlock and Watson. 
Along with Gildas and Merlin, the supporting cast with how everyone intertwined the storylines. It really develops how the mysteries, as well as past mysteries start unfolding. Ruud really involves every knight, every possibility to help aid the build up, I admit I had no clue who the 'real bad guy' would be! Would have liked a little more background build up with some of the characters, but nonetheless the snippets between each was great.
However, a bit of a pet peeve that nagged at me while I was reading was that the development on the mystery became a little tedious at points. The investigation was hugely based on the rumor surrounding the murders (which is understandable given the synopsis), but still left some holes for me that didn't match up. It also made for some of the connections to the supporting characters a little confusing at time, I had to re-read some areas to really grasp the undertone of the situation. 
Overall, this is definitely a great read. It is enjoyable, fast paced with a really entrancing plot development. As my first Jay Ruud book, I really enjoyed his writing style, I definitely want go back and read some of the other books within the series as well as looking forward future installment of the Merlin's Mysteries – just super fun and entertaining! I recommend checking this out for sure, especially if you are a historical fiction buff, worth giving it a chance.

Purchase Links

About Jay Ruud
Jay Ruud is the retired Chair of the English Department at the University of Central Arkansas, and former Dean of the College of Arts and Sciences at Northern State University. His Ph.D. in medieval literature turned him into an avid fan of the legends of King Arthur, and kindled a passion for retelling those stories in his own way. The Bleak and Empty Sea follows the first two books of the Merlin mystery series, Fatal Feast and The Knight's Riddle.  A lover of Chaucer, Dante, and Tolkien, he has also authored four books of literary criticism and scholarship (on Chaucer, Dante, Tolkien, and an encyclopedia of medieval literature). In addition, he is a lifetime Cubs fan who finally lived to see a world series, and he hopes one day to visit Antarctica.  For more information, please go to jayruud.com.